MEGA WONDERFUL WINTER SALT CAVE SALE – Up to 70% off of the Salt Cave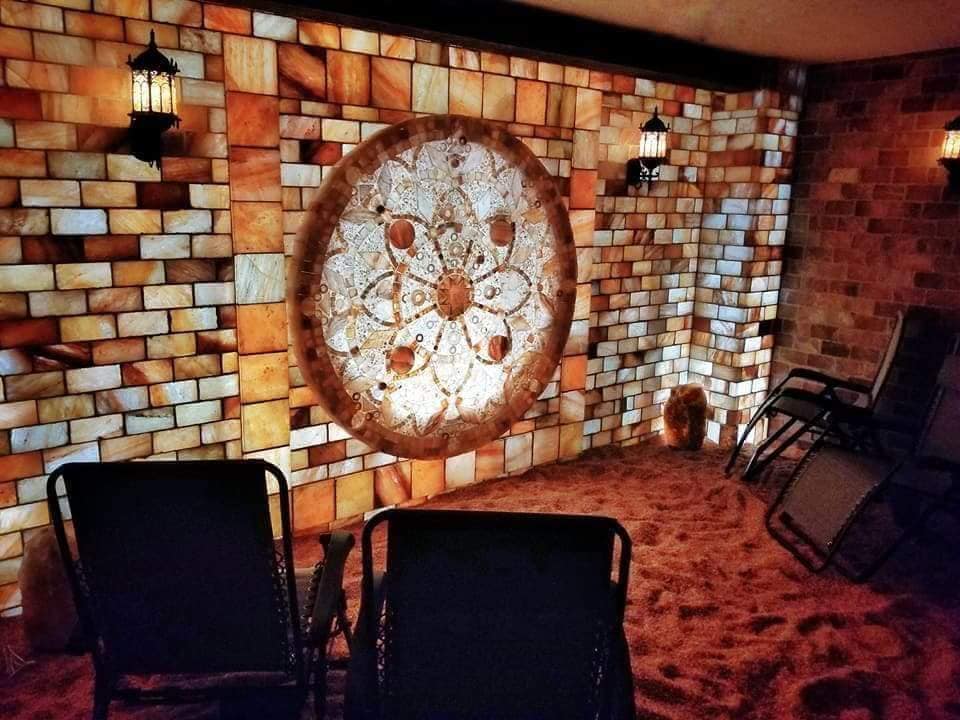 Only a few days left to SAVE UP TO 70%, on shareable SALT CAVE sessions, during our WONDERFUL WINTER SALT CAVE SALE!
The rumors are true! The Centered Stone • Health and Wellness, has opened Utah's first HIMALAYAN SALT CAVE, and we are offering a huge opportunity this holiday season, so you can be one of the first in Utah to experience a Himalayan salt cave! We want everyone to experience the benefits of the salt cave (which we'll discuss in further detail, later on in this post), so we are offering 45 minute salt cave sessions in a massive Wonderful Winter Salt Cave Sale.
Regular salt cave sessions are $35. Here are the Wonderful Winter Salt Cave Sale prices…
BUY NOW AND RECEIVE
•1 salt cave session for $25 (30% off)
•2 salt cave sessions for $39 (44% off)
•5 salt cave sessions for $88 (50% off)
•7 salt cave sessions for $99 (60% off)
•10 salt cave sessions for $105 (70% off)
•Rent Entire Salt Cave for $199 (reg. $250)
*Salt cave can accommodate up to 20 people in recliners or 35 people sitting on salt floor.)
*Multiple cave sessions can be used individually, or as a group (maximum cave occupancy is 20 people). And, YES, YOU CAN GIFT THEM for Christmas (or however you wish to gift them). For physical gift certificates to accompany your purchase, please come into our location.
*NO EXPIRATION DATE! We know you're busy. Use them when you're ready.
*There is NO LIMIT to the number of sessions you can buy.
*These session passes are for regular halotherapy sessions. Where they do not include special events in the cave, you MAY use the purchase amount toward special events (limited to one session per person per event).
••••••••••••••••••••••••••••••••••••••••••••••••••••••••••••••••••••••
WHAT HAPPENS IN A SALT CAVE SESSION?
In each 45 minute salt cave session, you will experience what is called halotherapy, or dry salt therapy. As you relax in a comfortable, climate controlled room surrounded by illuminated mineral-dense and pure unadulterated salt, micro-particles of the salt are emitted into the air through a halogenorator. This patented technology allows the mineral dense salt to passively enter your lungs, and initiate certain healing processes.
The benefits of the cave can be broken down into two categories: 1. The physical health benefits, and 2. The emotional and psychological benefits.
LET'S TALK ABOUT THE PHYSICAL HEALTH BENEFITS of HALOTHERAPY IN THE SALT CAVE:
Halotherapy is a drug-free, noninvasive treatment for expanding lung function, which has been used for centuries for alleviating certain health problems such as asthma, allergies, sinusitis, bronchitis, and a host of other respiratory illness. It is a modern-day therapeutic method based on the principle of the natural salt mine microformats (Speleotherapy), where frequent exposure to the salt produced healing results for miners and others experiencing respiratory illnesses.
In addition to the immediate benefits to the respiratory system, others utilize the negative ionic and cleansing air of the cave to boost energy, improve sleep, conquer certain skin and hair ailments–and the list goes on.
LET'S TALK ABOUT THE EMOTIONAL & PSYCHOLOGICAL BENEFITS of THE SALT CAVE:
Every square inch of the salt cave is designed to bring peace, comfort, inspiration, creativity, and healing to the body, mind, and soul. The immediate tranquil ambiance is not experienced by accident. Designed by meditative artist and mindfulness instructor Amy Stone, every pattern, every shape, every color, every texture, and every placement of light has been meticulously planned out and executed, based on neurological evidence of what helps us stay in a peaceful and logical state of mind. Were you drawn by the beauty in the photos of the salt cave? See? It's working already. Just wait until you experience it in person! For many, the salt cave becomes a refuge from the chaos of the world, as well as a breeding ground for creative thought and positive energy.
WHAT HAPPENS WHEN YOU COMBINE THE PHYSICAL AND EMOTIONAL BENEFITS OF THE SALT CAVE?
Come find out.
The Centered Stone • Health & Wellness
801.692.1750
1042 Bamberger Dr
American Fork, UT 84003
TheCENTEREDStone.com
OPEN
Mon-Thurs 8am-8pm
Fri-Sat 10am-8am
Closed Sunday
*Salt cave sessions are held every hour. Reservations are suggested to ensure you are able to enjoy the cave when you want to.
Call, stop by, or click these links, to purchase your Wonderful Winter Salt Cave packages:
•1 salt cave session for $25 (30% off)
https://clients.mindbodyonline.com/classic/ws?studioid=738381&stype=41&sTG=22&prodId=100300
•2 salt cave sessions for $39 (44% off)
https://clients.mindbodyonline.com/classic/ws?studioid=738381&stype=41&sTG=22&prodId=100302
•5 salt cave sessions for $88 (50% off)
https://clients.mindbodyonline.com/classic/ws?studioid=738381&stype=41&sTG=22&prodId=100303
•7 salt cave sessions for $99 (60% off)
https://clients.mindbodyonline.com/classic/ws?studioid=738381&stype=41&sTG=22&prodId=100304
•10 salt cave sessions for $105 (70% off)
https://clients.mindbodyonline.com/classic/ws?studioid=738381&stype=41&sTG=22&prodId=100305
•To book entire salt cave for $199 (reg. $250),
Please call us at 801.692.1750
---