Mindful Art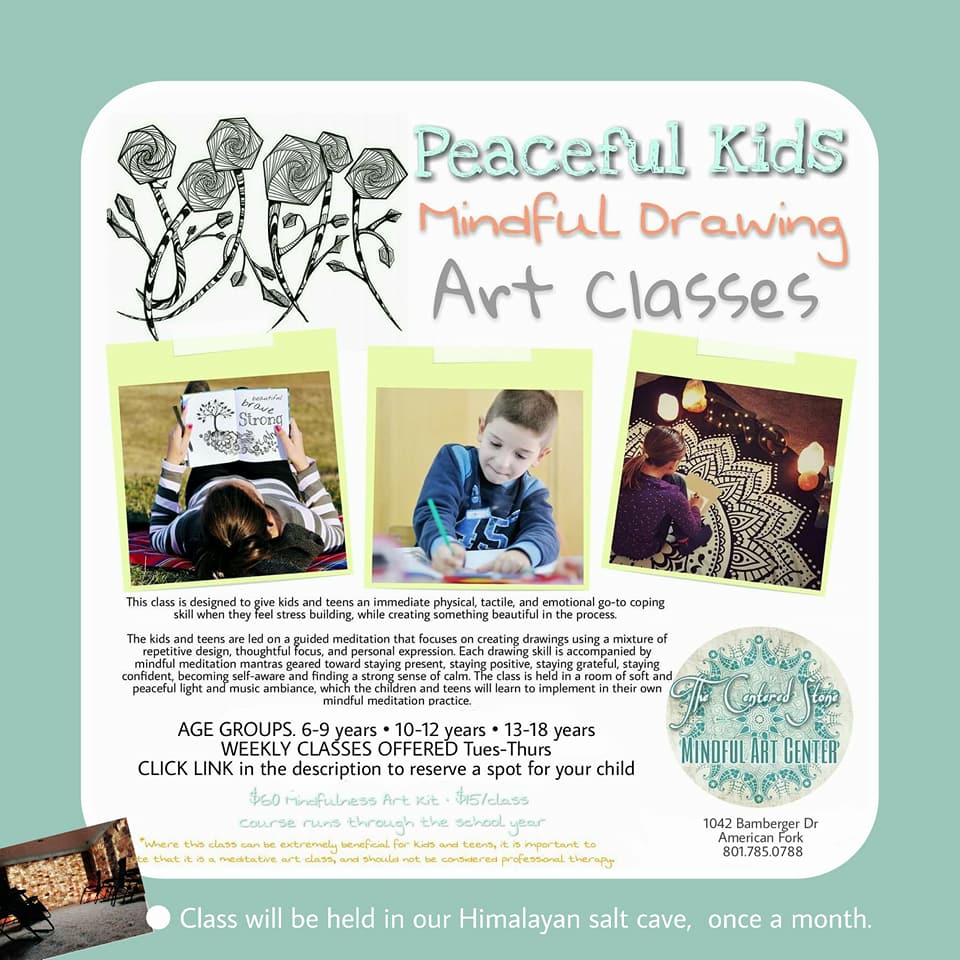 Please feel free to share this with any parents you know whose kids may benefit!
CLASS REGISTRATION IS NOW OPEN!
Due to popularity and need, I've added a couple more mindful meditation drawing and meditative mixed media class times for kids and teens (you can read a little bit more about me at the bottom). There will also be a class for women, for those who are interested.
All kids and teens, ages 6-18, are welcome. This class is designed to give kids and teens an immediate physical, tactile, and emotional go-to coping skill when they feel stress building, while creating something beautiful in the process. This class is especially helpful for kids and teens who struggle with anxiety and/or low self-worth, but have a flare for creativity. The kids and teens are led on a guided meditation that focuses on creating drawings using a mixture of repetitive design, thoughtful focus, and personal expression. Each drawing skill is accompanied by mindful meditation mantras geared toward staying present, staying positive, staying grateful, staying confident, becoming self-aware and finding a strong sense of calm. The class is held in a room of soft and peaceful light and music ambiance, which the children and teens will learn to implement in their own mindful meditation practice.
The last class of the month will be held in our Himalayan salt cave. Students may use the salt cave, when class is not in session, any time throughout the week for just $5/ season (normally $45). Up to one accompanying parent or care- taker (over 16 years old) may also have admittance for $5. We hope students and parents will utilize this opportunity, for added peace and relief.
Each class is $15. The course continues through the school year.
One time mindfulness art kit and registration fee of $60. Registration fee includes personal Himalayan salt lamp, personal mindfulness mat, solo light, and all art supplies. (Which are all your kid's and teen's to keep to aid them at home with their own mindful meditation.)
Pre-payment is due at the beginning of each month.
Class size is limited, so spots are filled at a first come first serve basis. A spot in the class is reserved upon payment of registration and first month's classes fee.
Classes  are held weekly:
Tuesday: MINDFUL DRAWING for Peaceful Kids & Teens
3:45-4:15 (ages 6-9)
4:30-5:15 (ages 10-12)
5:30-6:15 (ages 13-18)
Wednesday: MEDITATIVE MIXED MEDIA for Peaceful kids & Teens
5:00-6:45 (ages 10-12)
6:00-6:45 (ages 13-18)
Thursday: MINDFUL DRAWING for Peaceful Kids & Teens
3:45-4:15 (ages 6-9)
4:30-5:15 (ages 10-12)
5:30-6:15 (ages 13-18)
Students are required to be there 5-10 minutes early to have personal calm down prep time.
Parents are encouraged to accompany their children to one class a month.
The Centered Stone
1042 Bamberger
American Fork, UT 84003
Follow this link to sign up:
https://clients.mindbodyonline.com/classic/ws…
Or you can shoot me a private Facebook message or text at 801.917.0099, for more information.
You can also email me at Amy@thecenteredstone.com
My name is Amy Pearce Stone, of Her Art from the Attic. I primarily teach art class online. You can check out my YouTube channel here:
https://m.youtube.com/user/amerspearce
I'm also an instructor with Strathmore Paper products:
---